Website owners are receiving emails threatening to ruin their reputation if they do not post a five-star review for a cryptocurrency exchange.
Today, BleepingComputer received an extortion email demanding we post a 5-star review and perform two likes/shares for the coinmama.com cryptocurrency exchange. If we do not do what they require within 48 hours, the extortionist claims they will create millions of backlinks to our site from porn sites to ruin our reputation.
I need you to leave a 5 star review for us and also like us and share our posts on our social media channels.
I am giving you 48 hours. If I do not see a 5 star review from you and at least two likes and shares on our channels, I am going to send millions of porn backlinks to bleepingcomputer.com which will completely kill off your site. I have sent a few dozen spam links to your site already. You can have a look. I will remove those once I see reviews.
Ok this should have gotten your attention. Now here is what you need to do.
Give us five stars:
https://www.trustpilot.com/review/coinmama.com
Follow us on and like our posts:
https://www.facebook.com/Coinmama/
https://twitter.com/coinmama
https://t.me/coinmamanews
https://il.linkedin.com/company/coinmama
Thanks for your cooperation!
Regards
Dusyanthan Balasubramanian
This extortion tactic seems to have backfired on Coinmama or whoever they hired, as other website owners who received this email have started to leave negative reviews on the Trustpilot page for coinmama.com.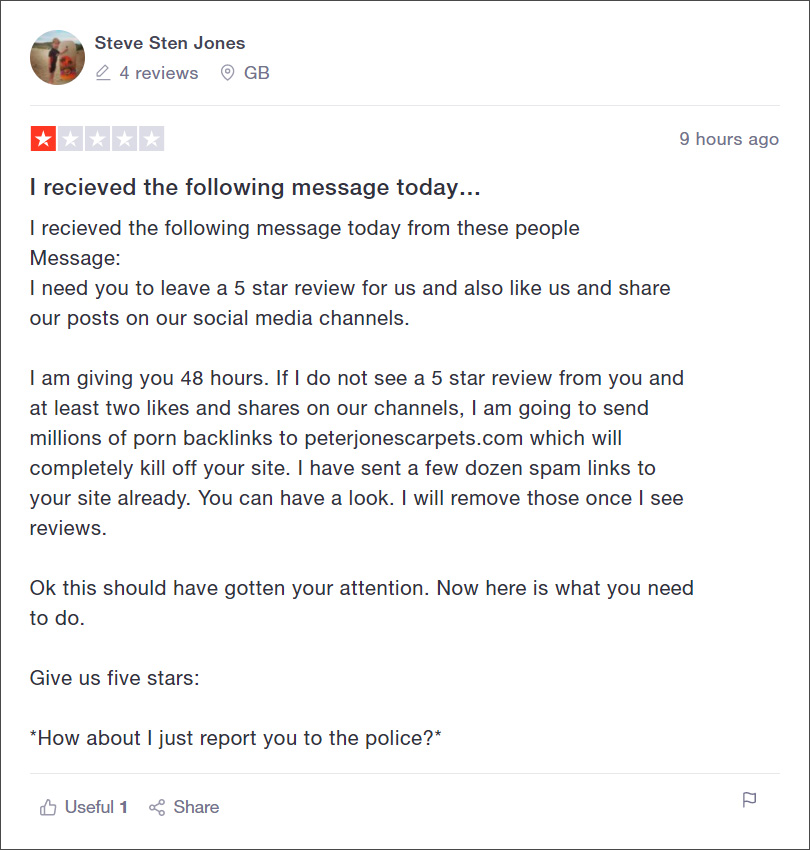 BleepingComputer has reached out to Coinmama with questions regarding these emails but has not received a response. It is possible that Coinmama hired a third-party company for SEO purposes, link building, and review generation, which didn't go as planned.
Sending an extortion demand to a cybersecurity news site is not a smart thing to do.
In June 2019, a different extortion scam targeting web site owners was making the rounds. In that campaign, the scammers threatened to ruin a site's reputation unless they paid $2,400 in bitcoin.