The short-lived theft of Perl.com in late January is believed to have been the result of a social engineering attack that convinced registrar Network Solutions to alter the domain's records without valid authorization.
In a blog post published on Sunday, Perl.com website editor Brian D. Foy said as much, noting that while Network Solutions has not confirmed this theory, he spoke with other domain owners who reported a similar scheme.
Perl.com is a website focused on articles about the Perl programming language, overseen by managing editor David Farrell. The Perl Foundation (perl.org) is said to be involved in the .com site though Foy insists that's not the case. The foundation's post on the subject and Foy's reply in the comments section suggests an arm's length relationship between the two groups.
The Register wrote about the domain takeover at the time and, as Foy put it, "The Register had spot-on reporting from the start as did Paul Ducklin at Sophos."
The domain coup appears to have occurred in September, 2020, as noted by intellectual property attorney John Berryhill. But Perl.com remained with Network Solutions for three more months after the ownership records had been altered.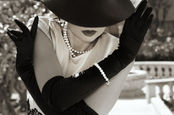 Perl-clutching hijackers appear to have seized control of 33-year-old programming language's .com domain
READ MORE
"The domain was transferred to the BizCN registrar in December, but the nameservers were not changed," explained Foy. "The domain was transferred again in January to another registrar, Key Systems, GmbH. This latency period avoids immediate detection, and bouncing the domain through a couple registrars makes the recovery much harder."
Network Solutions did not immediately respond to a request for comment.
The reason that Perl.com remained with Network Solutions until December, Foy said, is that ICANN prohibits the transfer of a domain for 60 days after the contact information is altered.
"We think part of the attack changed the registration at the same time as the attackers renewed the domain for a couple more years past its original expiration in 2029," he said.
In January, the domain was transferred to Key Systems and its unauthorized registrant tried to sell the domain for $190,000 on domain market Afternic (owned by GoDaddy), along with some other domain names. Foy says the sale was called off after The Register inquired about it.
The timeline of the domain hijacking is documented on the blog of the Perl Network Operations Center (NOC), which details how the investigation progressed and ultimately led to the restoration of the domain to its previous owner, Tom Christiansen, in early February.
Foy acknowledges in his post that the recovery of Perl.com was made easier by the fact that the domain and the Perl programming language are well known. "All sides understood that Perl.com belonged to Tom and it was a simple matter of work to resolve it," he said. "A relatively unknown domain name might not fare as well in proving they own it."
Indeed, domain thefts of this sort often end up in court because they're not as easily undone. ®