Later this year, Windows 10 is getting a new feature that will enable a Google Discover-like newsfeed on the taskbar. This feature is officially called "News and Interests" and it will give news stories, sports scores, finance and weather information.
Windows 10's newsfeed is based on the same approach used by Google for Discover on Android. Initially, the newsfeed will display stories based on your interests and you can customize the feed by opening Microsoft Edge.
In addition to news, the "News and Interests" feed will also include various widgets to display the weather and finance information.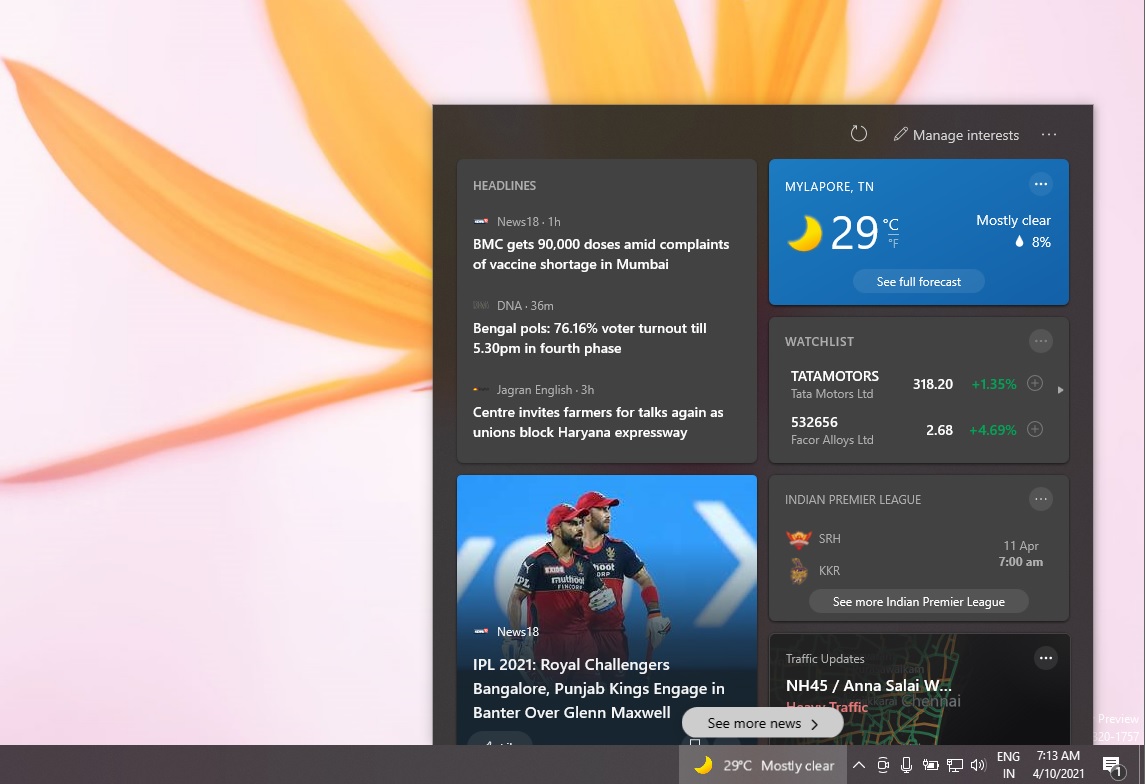 "Through news and interests, there is quick access to the Microsoft Privacy Dashboard. Through the Microsoft Edge browser, there are built-in controls to limit tracking from advertisers and third parties. And if news and interests feed doesn't appeal to you, you can easily turn it off by right-clicking on the taskbar," Microsoft explained in the release notes of Insider builds.
As you can see in the below screenshot, you can always remove a story from the feed and help Microsoft train the algorithm. To do hide stories, users can choose "Fewer stories like this". For your favourite stories, you can instead click on the second option "More stories like this".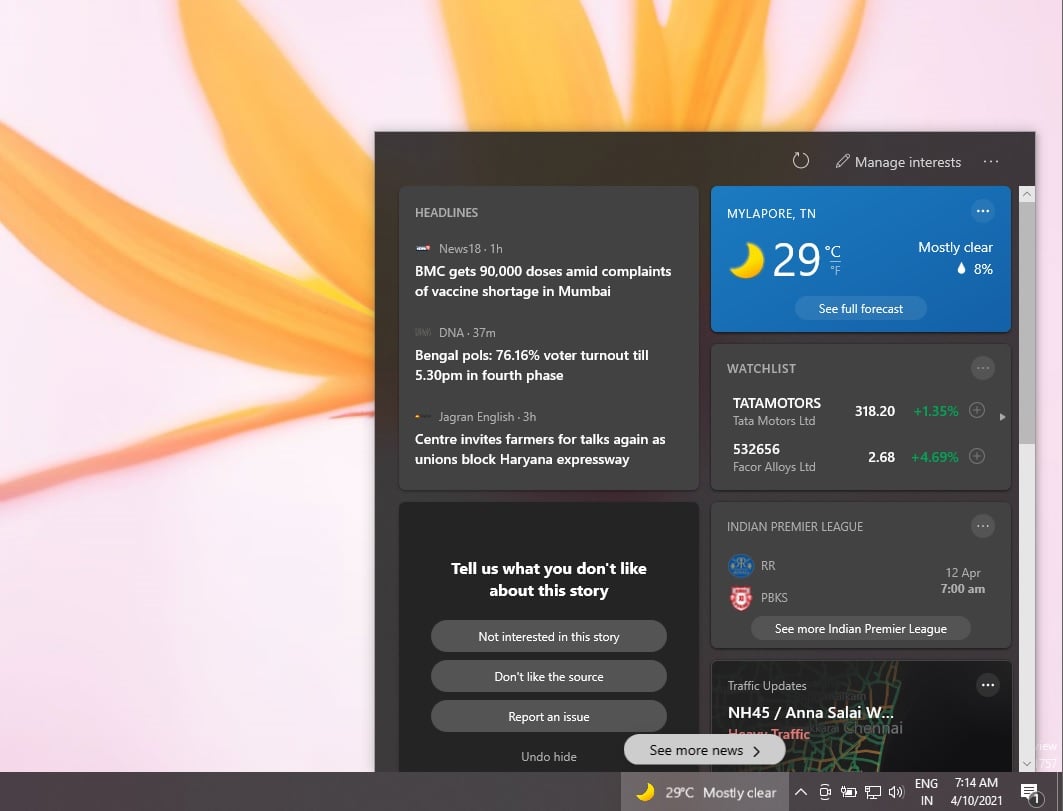 In new preview builds, you can also hover on the weather icon on your taskbar to access the newsfeed. There's also a new button "Manage interests" button that will open the full-page personalization experience in Chromium-based Microsoft Edge.
This new full-screen personalization page lets you choose the topics that you're interested in. You can also search for topics or publishers, and click on the follow button to get related recommendations.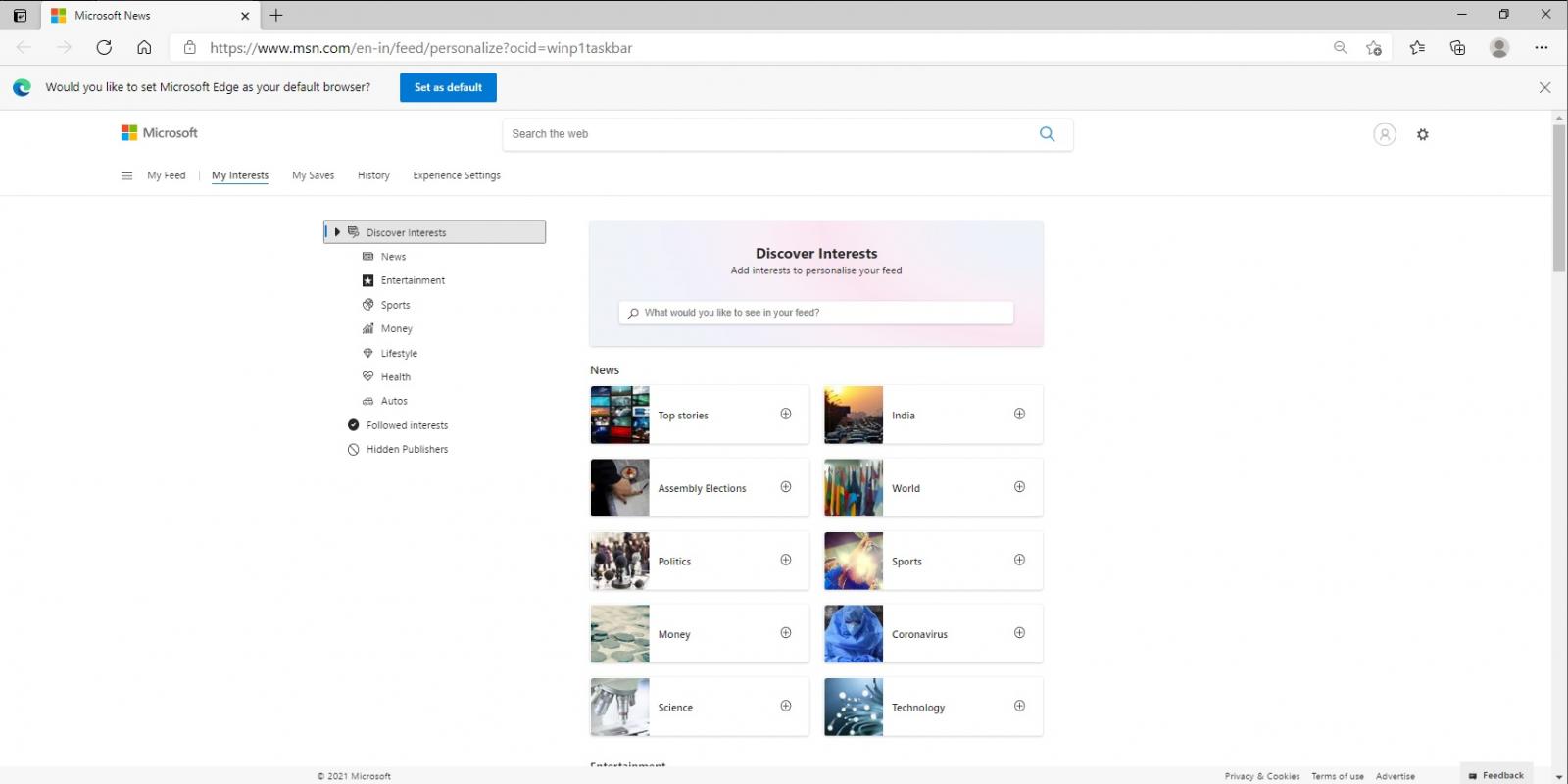 If you're unable to find your favourite news publisher, you can use the "My interests" page to discover interests by browsing over a dozen categories, such as news, entertainment, and sports.
Once done, you can manage the topics under the "Followed interests" section in the left navigation.
If you're using the newsfeed for the first time, Microsoft will display the personalization card in the feed to help you get started.
Currently, Microsoft is testing these new personalization experiences in the U.S., U.K., Canada, India, and Australia.