Microsoft has released an emergency fix for gaming issues introduced by the Windows 10 2004 and Windows 10 20H2 KB5001330 update.
With this release of the KB5000842 of the Windows 10 preview cumulative update at the end of March and in the subsequent release of April's KB5001330 update, Windows 10 users have been experiencing performance issues when playing games.
The issues experienced while playing games include decreased frame rate, video stuttering, and flickering textures.
"So i rollback to Windows 10 1909 build 18363.1500 and i'dont have any problem with the latest nvidia drivers, even youtube runs smooth without stuttering and vsync works without problems, there's something wrong with windows update," a Windows 10 users reported on the NVIDIA forums.
NVIDIA recommended that users uninstall the recent Windows 10 updates to resolve these issues in response to these complaints, which did resolve the problems but left people open to security vulnerabilities fixed in the recent updates.
Last night, Microsoft released an emergency fix for Windows 10 2004 and 20H2 to resolve these issues.
"A small subset of users have reported lower than expected performance in games after installing KB5000842 or later updates. Most users affected by this issue are running games full screen or borderless windowed modes and using two or more monitors," Microsoft stated in the Windows 10 2004 and Windows 20H2 known issues and notifications site.
This fix is being rolled out using Microsoft's Known Issue Rollback (KIR) feature, which is pushed to systems through Windows Update and should reach most affected users within 24 hours.
"This issue is resolved using Known Issue Rollback (KIR). Please note that it might take up to 24 hours for the resolution to propagate automatically to consumer devices and non-managed business devices. Restarting your device might help the resolution apply to your device faster."
"For enterprise-managed devices that have installed an affected update and encountered this issue, it can be resolved by installing and configuring a special Group Policy. Note Devices need to be restarted after configuring the special Group Policy. For help, please see How to use Group Policy to deploy a Known Issue Rollback. For general information on using Group Policies, see Group Policy Overview", explains Microsoft.
Fixed using the Known Issue Rollback feature
When Microsoft releases new code in an update that fixes a bug, sometimes this new code can cause further issues in Windows 10. Using diagnostics shared by Windows 10 computers, Microsoft can detect these issues and determine how wide of an impact they have.
If it affects a large number of people, Microsoft can issue a Known Issue Rollback (KIR) through Windows Update that disables the new code causing the issues, as shown below.

In the past, Microsoft was able to use Known Issue Rollout to fix a Microsoft Store bug preventing users from accessing paid content. Using KIR, Microsoft was able to fix the bug for 145 million Windows 10 users after identifying a fix.
While these fixes are distributed via Windows Update, they are not delivered as an actual update. Therefore, there is no easy way for Windows 10 users to know when a Known Issue Rollout fix without knowing what Registry entries are created.
One of our readers, Thomas, shared that you can check if the KIR is installed by going to the following registry key:
HKEY_LOCAL_MACHINESYSTEMCurrentControlSetControlFeatureManagementOverrides41837593227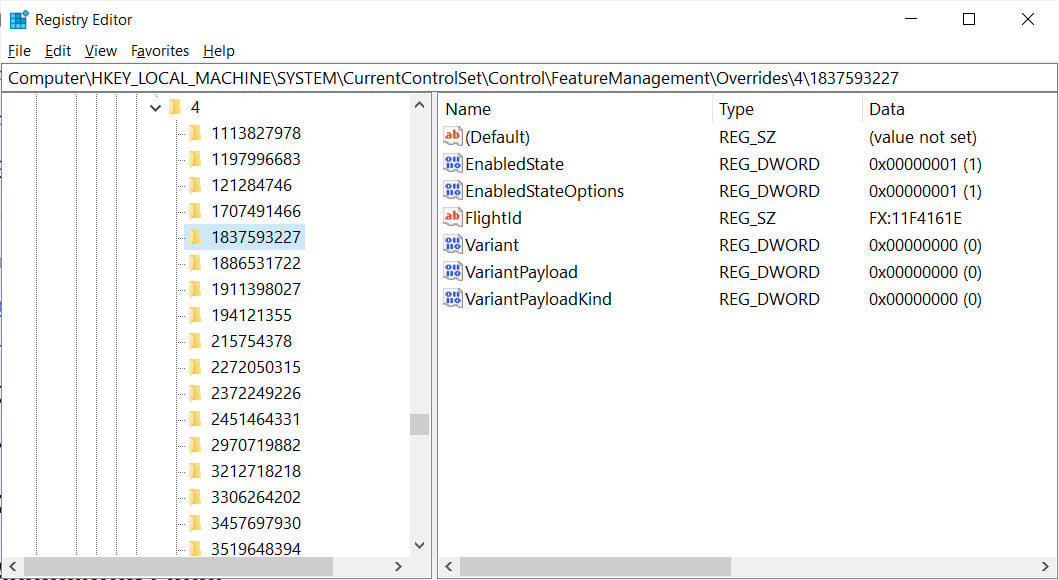 If you do not see the KIR in the Registry, do not panic. 
Microsoft has started the rollout is expected to be complete within 24 hours and that restarting the computer may speed up this process.
Update 4/25/21: Added further information about how to detect if KIR has been installed and further explained how KIR works.Thanks, Thomas!