Nonprofit health care provider Scripps Health in San Diego is currently dealing with a ransomware attack that forced the organization to suspend user access to its online portal and switch to alternative methods for patient care operations.
Following the attack, patient services have been offline and some critical-care patients have been redirected to other hospitals, according to local media reports.
Patient care activity disrupted
Scripps Health detected the attack late on Saturday and suspended user access to applications like MyScripps and scripps.org that connected to health care facilities.
On Sunday, the health care provider explained in a message that "patient care continues to be delivered safely and effectively at our facilities," despite IT applications being offline. Appointments over the weekend and for today have been postponed to a later date.
Some locations remain open for patient care, though, like outpatient urgent care centers, Scripps HealthExpress locations, and Emergency Departments, the nonprofit health care organization said on Facebook: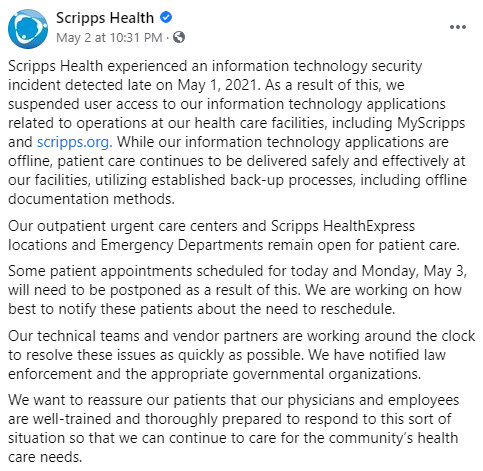 The organization added that work was done using established backup processes. According to The San Diego Union-Tribune, medical personnel was relying on paper records and electronic monitoring of a patient's vitals have also been affected by the attack.
The publication says it learned more details about the post-attack state from a Scripps Health internal memo, validated by someone familiar with the situation.
The internal notice indicated that the ransomware attack impacted computer systems at two hospitals, including access to medical imaging.
Due to the attack, hospitals in Encinitas, La Jolla, San Diego, and Chula Vista no longer received stroke or heart attack patients, which were diverted to other medical facilities.
Scripps Health is working to return to normal operations and has informed law enforcement and government organizations of the situation.
The health care provider has five hospitals and 19 outpost facilities with over 2,600 affiliate physicians. Every year, Scripps Health treats more than 700,000 patients, as per data from Fortune.
With quarterly revenues upwards of $790 million in 2020, Scripps Health makes an attractive target for ransomware gangs, which are driven solely by profit and not moral standards.
h/t Paul R