Microsoft has fixed a known Windows 10 issue that would lead to FLAC encoded music files becoming corrupted when changing their title, artist, or other metadata in File Explorer.
The bug impacts multiple Windows 10 editions (Home, Pro, Enterprise, Education, Pro Education, and Pro for Workstations) and versions (version 2004 and version 20H2).
The issue can occur when editing the metadata of FLAC files containing an ID3 frame with title and artist info before the audio file's FLAC header.
"The FLAC property handler assumed that all FLAC files started with the 4 byte start code fLaC and did not take into account the ID3 frame at the beginning of the file," Microsoft explains.
"Therefore, the ID3 frame would be overwritten without the start code fLaC rendering the file unplayable."
Microsoft has fixed this Windows 10 known issue in the KB5003214 update released last week to Insiders in the 20H2 Release Preview Channel.
"This update addresses a metadata encoding issue which causes Free Lossless Audio Codec (FLAC) music files to become unplayable if their title, artist, or other metadata is changed," Microsoft said.
Script available to fix corrupted FLAC files
Besides the KB5003214 update designed to prevent the issue from occurring on impacted Windows 10 versions, Microsoft also provides a PowerShell script that can be used to fix previously corrupted FLAC music files.
As Redmond notes, while the script will not restore the lost file metadata stored in the ID3 frame, it renders the audio playable again.
To fix your FLAC files, you will have to go through the following steps:
Download this ZIP archive and extract its contents.
Locate the FixFlacFiles.ps1 contained within, right-click it, and then click Run with PowerShell.
When prompted, type in the file name of the unplayable FLAC file and then press Enter.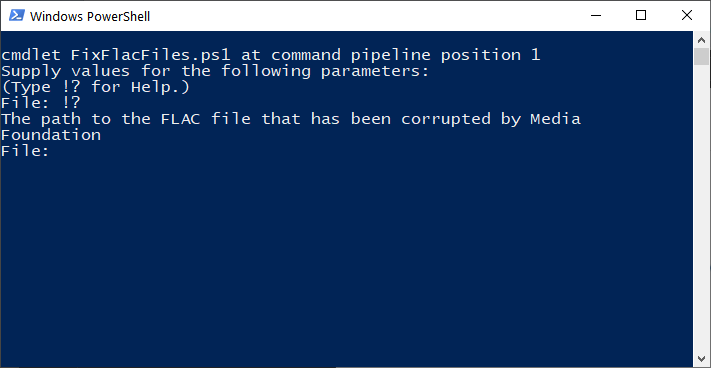 High-pitched noise also under investigation
Microsoft is also investigating another known issue causing Windows 10 users to hear a high-pitched noise when using some 5.1 audio configurations after applying recently released cumulative updates.
"After installing KB5000842 or later updates, 5.1 Dolby Digital audio may play containing a high-pitched noise or squeak in certain apps when using certain audio devices and Windows settings," Microsoft explains on the Windows 10 Health Dashboard.
Microsoft is working on resolving the issue, with a fix to be provided to affected customers in an upcoming release.
Until the high-pitched noise bug is fixed, Redmond provides workarounds to help impacted users temporarily mitigate it:
Streaming the video or audio in a web browser or different app instead of the app affected by this issue.
Enable Spatial sound settings by right-clicking or long-pressing on the volume icon in the notification area, selecting Spatial sound (Off), and select any available options.
In the past, Microsoft customers have encountered other audio 'difficulties,' with Windows 10 audio problems affecting gamers and Windows 10 system updates causing audio to no longer work.