Apple has removed the Parler social network app from the App Store for violating policies, including not providing an updated moderation plan or an updated app with objectionable content removed.
Since the U.S. Capitol Building riot on January 6th, 2021, there has been an increase in social networking posts that incite violence against politicians, law enforcement, and organizations that supporters,
Many of these posts are found on the conservative social network app Parler and contain threats to Vice President Pence, police, and even Twitter.
Honest question for @AppStore and @GooglePlay.

If Parler continues to allow incitement and calls for violence, doesn't that break your Terms of Service for apps? pic.twitter.com/CkXg99Trl7

— Sleeping Giants (@slpng_giants) January 7, 2021
Yesterday, Buzzfeed News obtained an email Apple sent to Parler stating that the app is breaking numerous policies related to the user content displayed within the application.
"Your CEO was quoted recently saying "But I don't feel responsible for any of this and neither should the platform, considering we're a neutral town square that just adheres to the law." We want to be clear that Parler is in fact responsible for all the user generated content present on your service and for ensuring that this content meets App Store requirements for the safety and protection of our users. We won't distribute apps that present dangerous and harmful content," reads a letter sent to Parler yesterday and published by Buzzfeed.
For the app to be available in the Apple App Store, Parler must remove all objectionable content from the app, create a moderation improvement plan, and resubmit the application binary for review.
"To ensure there is no interruption of the availability of your app on the App Store, please submit an update and the requested moderation improvement plan within 24 hours of the date of this message. If we do not receive an update compliant with the App Store Review Guidelines and the requested moderation improvement plan in writing within 24 hours, your app will be removed from the App Store," Apple warned in the email.
Saturday night at approximately 8 pm EST, Apple removed Parler from the app store, and it is no longer available to install on devices.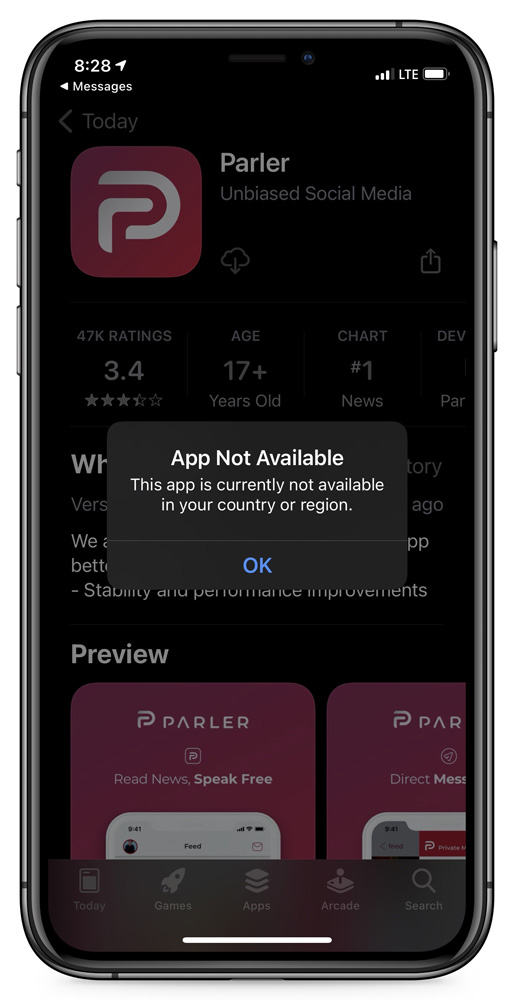 In a statement to BleepingComputer, Apple stated that the app was removed from as Parler did not adequately address the threats of violence posted on their service.
"We have always supported diverse points of view being represented on the App Store, but there is no place on our platform for threats of violence and illegal activity. Parler has not taken adequate measures to address the proliferation of these threats to people's safety. We have suspended Parler from the App Store until they resolve these issues," Apple told BleepingComputer in a statement.
Below is the full statement sent to Parler explaining why the Apple App Review Board removed the app.
To the developers of the Parler app,
Thank you for your response regarding dangerous and harmful content on Parler. We have determined that the measures you describe are inadequate to address the proliferation of dangerous and objectionable content on your app. 
Parler has not upheld its commitment to moderate and remove harmful or dangerous content encouraging violence and illegal activity, and is not in compliance with the App Store Review Guidelines.
In your response, you referenced that Parler has been taking this content "very seriously for weeks." However, the processes Parler has put in place to moderate or prevent the spread of dangerous and illegal content have proved insufficient. Specifically, we have continued to find direct threats of violence and calls to incite lawless action in violation of Guideline 1.1 – Safety – Objectionable Content.
Your response also references a moderation plan "for the time being," which does not meet the ongoing requirements in Guideline 1.2 – Safety – User Generated content. While there is no perfect system to prevent all dangerous or hateful user content, apps are required to have robust content moderation plans in place to proactively and effectively address these issues. A temporary "task force" is not a sufficient response given the widespread proliferation of harmful content.
For these reasons, your app will be removed from the App Store until we receive an update that is compliant with the App Store Review Guidelines and you have demonstrated your ability to effectively moderate and filter the dangerous and harmful content on your service.
Regards,
App Review Board
For those who already have Parler installed on their Apple devices, the app will continue to work.