​Starting next month, Microsoft Word for Windows will include a new predictive typing feature that automatically suggests new words to use as you are typing.
The new feature is called 'Text Prediction,' and Microsoft states that it will go live for all Word for Windows users starting March 2021.
Introduced initially to users in the Office Insiders program in September 2020, as you type, Microsoft Word will offer greyed-out suggestions for the next word to use in your sentence, as shown below.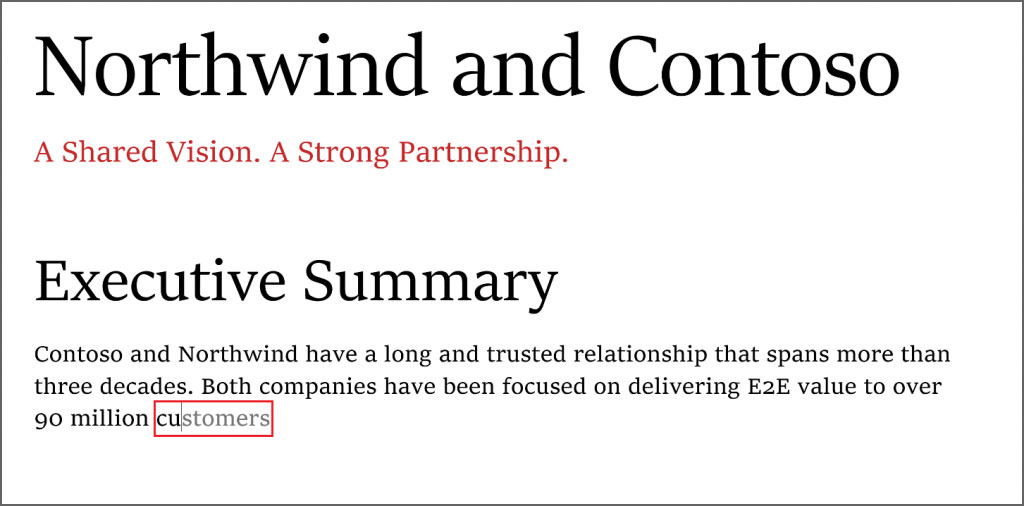 If you wish to select the word, you simply press the Tab button on your keyboard, and Word will automatically insert the suggestion into the document.
Microsoft believes this new feature will help users type more quickly and reduce spelling and grammar errors.
"The feature reduces spelling and grammar errors and learns over time to give the best recommendations based on your writing style," Microsoft explains in a blog post.
Over time, Microsoft's machine learning model will better predict what you plan on typing based on your past work.
The data collected to feed the machine learning model is not shared outside of your tenant's boundary and will only be seen by humans if you specifically donate as part of the feedback feature.
Predictive typing is not a revolutionary feature, and other applications and software have had it for a while, including Gmail and as a built-in feature in Windows 10. It is surprising that it took Microsoft this long to add the feature to one of their most popular Office programs.
If you do not want to wait until March, Office 365 users with a subscription can test the 'text prediction' feature now by joining the Office 365 Insider program.
For Windows 10 users, you can also enable the operating systems predictive typing feature by going into Settings > Devices > Typing and enabling 'Show text suggestions as I type' under the Hardware keyboard section.