The Biden administration has named China as the most threatening nation the United States faces, on grounds that it can combine its technological and other capabilities like no other.
That assessment was offered in a new Interim National Security Guidance [PDF] issued on Wednesday, in which the administration also outlines plans to seek more regulation of advanced technologies and an intention to strike back after cyberattacks.
The document describes China as "rapidly become more assertive" and rates it "the only competitor potentially capable of combining its economic, diplomatic, military, and technological power to mount a sustained challenge to a stable and open international system."
The document also mentions Russia, North Korea, Iran, and violent extremists everywhere as the USA's most obvious adversaries.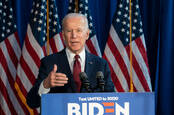 President Biden weighs in on Amazon unionization efforts, warns giant to steer clear of threats, coercion
READ MORE
The administration hopes to work with allies and partners to "modernize the architecture of international cooperation for the challenges of this century, from cyber threats to climate change, corruption, and digital authoritarianism."
Quantum computing and AI are mentioned as having the potential to "shape everything from the economic and military balance among states to the future of work, wealth, and inequality within them." The document also notes: "Emerging technologies remain largely ungoverned by laws or norms designed to center rights and democratic values, foster cooperation, establish guardrails against misuse or malign action, and reduce uncertainty and manage the risk that competition will lead to conflict."
"We will renew our commitment to international engagement on cyber issues, working alongside our allies and partners to uphold existing and shape new global norms in cyberspace," the document states, adding that the administration plans to "lead in promoting shared norms and forge new agreements on emerging technologies, space, cyber space, health and biological threats, climate and the environment, and human rights."
But the administration won't be afraid to go beyond diplomacy, stating we will hold actors accountable for destructive, disruptive, or otherwise destabilizing malicious cyber activity, and respond swiftly and proportionately to cyberattacks by imposing substantial costs through cyber and noncyber means." The administration also pledged to "double down on science and technology investments, including in … foundational computing technologies" and promised to "expand our science and technology workforce by investing in STEM education, where America is currently losing ground." The document also signals further change to Trump-era immigration policies by teasing policy aimed at "restoring our nation's historic strengths by ensuring our immigration policy incentivizes the world's best and brightest to study, work, and stay in America." ®